Call for Participation | DigiSem 2022 - Digitalisation Research Seminar on "Data Literacy" | 22-23 September
News | 12-05-2022 14:50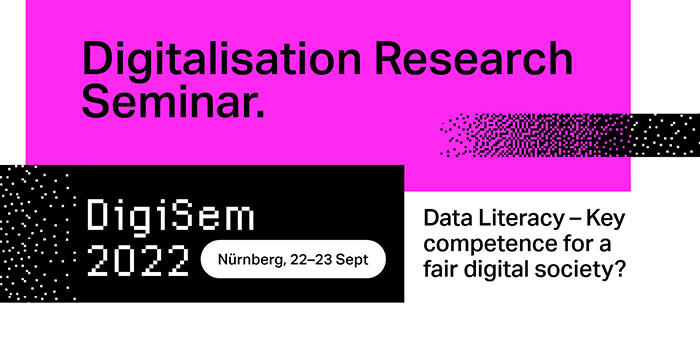 The Call for Participation for DigiSem 2022 – Digitalisation Research Seminar on "Data Literacy – Key competence for a fair digital society?" is now open until *17 June 2022*.
DigiSem is a bi-annual workshop for doctoral and postdoctoral researchers, organised by the Bavarian Research Institute for Digital Transformation (bidt), the Center for Advanced Internet Studies (CAIS) and the Weizenbaum Institute (WI). It will take place on *22-23 September 2022, in Nürnberg, Germany.
The workshop will include a keynote by a renowned expert, multiple sessions on specific aspects of the workshop's overarching theme chaired by experienced researchers from the organising institutes, and other formats, such as a poster session in which researchers present results and discuss current hot topics in a collaborative and experimental fashion. The seminar provides a platform for discussing project ideas, research results, feasibility studies, and/or pilots for product/app development with senior researchers and experts from bidt, CAIS, and WI.
The first edition of DigiSem focuses on Data Literacy as a fundamental pillar for leading a meaningful, fair, and happy life in a digital society. Data Literacy is a multi-layered concept with rather distinct fields of application. DigiSem wants to approach the topic in an interdisciplinary and holistic way, shedding light on the different facets of the concept, and - if possible - relating them to each other.
More information on the programme and keynote speaker can be found in the Call for Participation (cf. attachment). Participation and catering are free of charge. Travel and accommodation costs must be covered by the participants themselves.
Please apply via: https://easychair.org/conferences/?conf=digisem2022
---
back